Shelley Carr, publisher of SBI Energy discusses the EVSE market with Norman Deschamp
Norman Deschamps is a veteran SBI Energy analyst. His reports for SBI include the recently released SBI Energy market research study, EVSE Electric Vehicle Service Equipment Market Worldwide. In reviewing his report for publication I became intrigued with electric vehicle fleets.
Shelley: Norman, I want to know more about the fleet market. Its numbers are being captured in two segments--residential/home charging and commercial fleet charging sponsored by public or private enterprises. Do I understand this correctly? I want to know what portion of home/residential chargers is sold for private fleet operations.
This seems a lucrative opportunity, as residential chargers don't require complicated wiring (it is similar to wiring a house to use a generator; not usually done, but not technically difficult). More importantly, vehicle to home (V2H) applications typically do not require a special permit from local authorities or utilities to implement (again, same as what is required by state for generator installation). For fleet applications, "home" is the depot where the vehicles are stored when off-shift. For the vehicle to grid (V2G) market, SBI Energy sees fleet operators being some of the first to make use of bi-directional chargers, providing power back to the grid for a profit. Fleets will have hundreds of vehicles charging over night, providing a potentially considerable source of revenue.
Norman: Shelley, unfortunately that is not distinguishable. The home market is based on the number of EVs sold, but, data on what percentage of those sales are to private citizens and what percentage are sold to businesses is only available for a few regions like the U.S. So there is certainly some percentage of the global home/residential EVSE market that is fleet but I do not know what that would be.
U.S. data shows, that as of 2010, there were over 57,000 PEVs in use by public and private fleets in the United States. Municipal governments and private businesses own over 89% of fleet vehicles, making this the largest sector for PEV use even over personal ownership.
Table 1-1
U.S. Fleet PEV Ownership, 2006-2010
| | | | | | | |
| --- | --- | --- | --- | --- | --- | --- |
| Fleet Type | 2006 | 2007 | 2008 | 2009 | 2010 | CAGR |
| Federal Agencies | 110 | 100 | 83 | 56 | 2,943 | 127.4% |
| State Agencies | 2,280 | 1,977 | 2,318 | 2,020 | 2,708 | 4.4% |
| Fuel Providers | 488 | 558 | 505 | 476 | 459 | -1.5% |
| Transit Agencies | 311 | 138 | 128 | 102 | 111 | -22.7% |
| Municipal Governments & Private Businesses | 50,337 | 52,957 | 53,867 | 54,531 | 51,241 | 0.4% |
| Total | 53,526 | 55,730 | 56,901 | 57,185 | 57,462 | 1.8% |
Source: U.S. Energy Information Administration.
Norman notes that most state and local government-owned EVSE are publicly accessible, implying the government fleets share time with private PEVs for these facilities rather than making them exclusive for government use. Federally owned EVSE are not publicly accessible.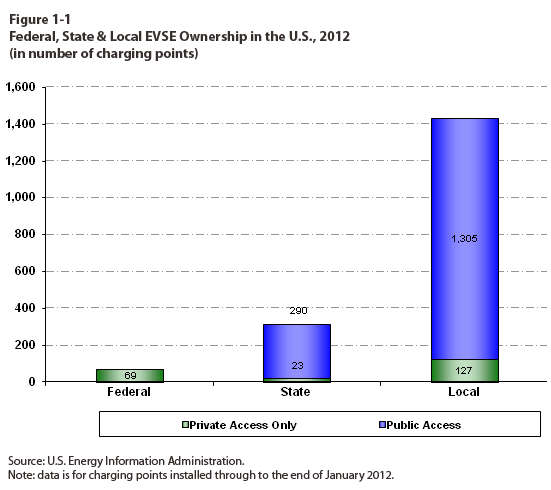 However, what Norman points to as most distinguishable about the fleet segment of the EVSE market is its value to advancing V2G technologies. Futuristic visions of electric vehicle service stations as commonplace as the current landscape of gas stations may be beheld in Walmart parking lots today in California, Oregon, Ohio and numerous other states. With bi-directional 'smart' chargers, individuals will soon follow fleets in using their car to generate electricity to utilities, significantly reducing direct energy expenses.

Fleet use is the most common type of PEV usage in a number of other countries as well. For instance, approximately 60% of PEV sold in the UK in 2011 were for fleet use. In China, most PEV fleet use is for private taxi fleets, buses and municipal vehicles, followed by federal and state governments. Beijing and Shenzhen have the largest fleets of both buses and taxies; Beijing has over 1,100 electric buses and sanitation trucks, and 150 electric taxis. Shenzhen has over 600 electric buses and 300 taxis and plans to add a further 1,500 PEV buses and taxis in 2012.

The Chinese government has built much of the country's charging infrastructure to encourage expansion of fleet use. The PEV buses, taxis and sanitation trucks in the two cities account for most of the charging and all of the battery changes done in the charging and battery swap stations built in Beijing and Shenzhen. As only a small fraction of PEVs in China are privately owned, this type of usage split is not surprising.

Even with hefty subsidies, consumers in China are not purchasing PEVs, and companies such as BYD are switching their focus from consumers to fleet customers. This means fleet use in China will continue to predominate through to at least 2016, and perhaps even through to 2021.

Shelley: So Norman, I know the report is not about the PEV market; it's about the EVSE/charger market. But as the report shows the EVSE market growing as the PEV market does, can it be expected that like will occur in reverse? Do you foresee the PEV market growing in correlation to the EVSE market projections through 2021?

Norman: Absolutely there is a correlation between PEV sales and EVSE sales. The connection is pretty much linear for home EVSE and fleet EVSE, but not so straightforward for public EVSE. Some governments are building EVSE networks in advance of PEV adoption to promote PEV sales, while others are letting PEV sales dictate the EVSE market. However, in all regions where the PEV market is increasing, then the EVSE market is increasing as well.

Shelley: But Norman, I'm asking the opposite. I want to know if PEV market will grow similarly to 2021 as EVSE is projected to do.

I picture Norman sitting at his phone, taking a breath and pointing to the air as he says: "All this to say that I found it easier to forecast the EVSE market by also forecasting the PEV market. Here are the numbers I have: PEV sales will grow to 580,000 vehicles by 2016 and 2 million vehicles per year by 2021. This is a more pessimistic view of PEV sales then you normally see in reports, but I feel it is much closer to reality as it closely follows the sales growth achieved by hybrid vehicles in the last decade. This is a compound annual growth rate (CAGR) of 53% between 2012 and 2016 and 39% between 2012 and 2021."

"Still, Norman," I pressed. "What of EVSE momentum through 2021 as an indicator of the PEV market?"

Norman: That is the hope, but I have not seen the reverse hold true. A public EVSE system 'helps' promote PEV sales, but really it is the cost of PEVs and the government incentives to buy PEVs that are the primary drivers to PEV market growth.

Shelley: Thank you, Norman. Always a pleasure talking with you.

Learn more about the EVSE market in the following report from SBI Energy, EVSE Electric Vehicle Service Equipment Market Worldwide.